A store in Shanghai, China is transformed into a tunnel filled with books by a popular architecture studio, XL Muse. After going through years of growth, the Hangzhou Zhongshuge bookstore made a significant upgrade to their store by replacing their floor with black mirrored flooring and putting arched shelves all the way to the ceiling, emulating the effect of a tunnel with water.
The designers got their inspiration from the waterside where the bookshop is located, in Zhen Yuan, and the arched bridges in the area.
XL-Muse said poets and literati visited and gathered in this area in the past; they used the bridges for culture and commerce's guiding factor, and they want the bookstore to represent that bond between the books and humans all together.
Instead of meeting at the top, the concave shelves are separated by a gap that resembles a lightning bolt right in the middle of the ceiling. This gap acts as a river as it reflects on the mirrored floor, leading customers all the way into the bookstore.
The lobby of the bookstore ties up all the special effects of this 1,000 square meter space, as it features beautifully-lit reading rooms and village-themed areas for the kids. Also, the curve shape of the main reading room resembles pillars that inwardly curve from the ceiling.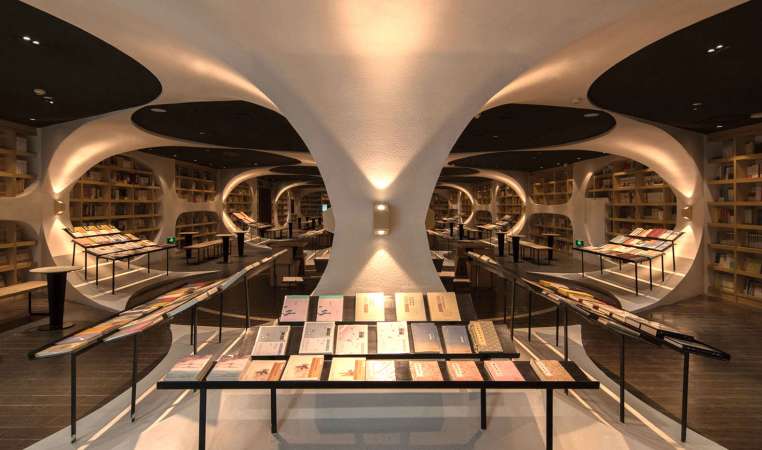 The shelves are made up of black metal stands combined with the traditional vertical style, arranging books in a mild slope, complementing the nice and smooth curve of the pillars. Wooden shelves are painted with variety of colors, while the lights on the ceiling are nicely arranged for a starry night sky. Children's reading area of course, features combinations of things that fascinate kids, such as hot air balloon, clouds, towers and house shapes.
In the age of smartphones and mobile internet, libraries still hold their charm over bookworms. And this tunnel of books is definitely a treat for book lovers.