Most people dreaming of having a big house or apartment to live in, and have all the comforts and luxuries of city living. However, many of us don't have that kind of luxury in life. For some people, they made the best out of it. Check out how these amazing people made the best out of their little space in these smart ideas for apartment living.
Save your vanity mirror from clutter. Use vertical space for storage. This art piece for example, hides a wonderful secret, as inside it is a jewelry and accessory box.
As with most small apartments, you will have a hard time finding the perfect center table for your living room. Why not bypass that furniture and customize your regular armrest into a table/armrest. It saves space and looks awesome too.
Looking for ways to organize your stuff in your little bathroom? Start with the bathroom faucet, get a above-the-faucet shelves. Even the tiniest one can be organized.
Is this a bookshelf? No. A mirror? No. It's a rotating wardrobe furniture that can be everything you want it to be! How awesome is that?
They say necessity is the mother of all inventions. Well, this ingenious invention is definitely a good addition for anyone that needs good furniture for their little space.
Living in a small apartment means you have to be more resourceful and smart in your choices. That includes choosing the right stuff to use, such as this foldable laundry basket, which you can easily stash in tight spaces when not in use.
How to get the most out of every inch of space in your apartment? Utilize vertical space. Check out this secret storage space for spices for example. It's simple, yet extremely effective.
Again, utilize vertical space. Take this hanging clothes rack for example – space-saving idea that is even more useful and efficient than ordinary clothes rack.
Smart ideas don't have to be complicated ideas. Take this hook for example. It's a simple tool that proves to be extremely useful.
Can't find a table to fit in your tiny balcony? Why not ditch the whole idea of table, and use a floating table instead. This ingenious tool can easily turn your small space in your apartment into a home office.
Don't have room to place your magazines or newspapers in your toilet? Look for something like this to utilize the space. It's a 2 in 1 tool for your bathroom necessities.
Again, utilize every inch of your apartment by using vertical space. There are countless of options out there, and this vertical wine rack is just one good example.
There will always be some few inches of space in your kitchen for something like a pull-out for spices. It keeps your spices organized, and it looks wonderful too.
Or you can always make extra shelves inside the kitchen cabinets to organize small bottles of spices. Again, they look pretty cool.
Organize your utensils by having a utensil holder. Place it on top of your mini-fridge and voila! Instant space-saver for your kitchen.
Hate clutter in your kitchen? There are tons of ways to organize your kitchen tools, and one good way is to have a drawer for your knives.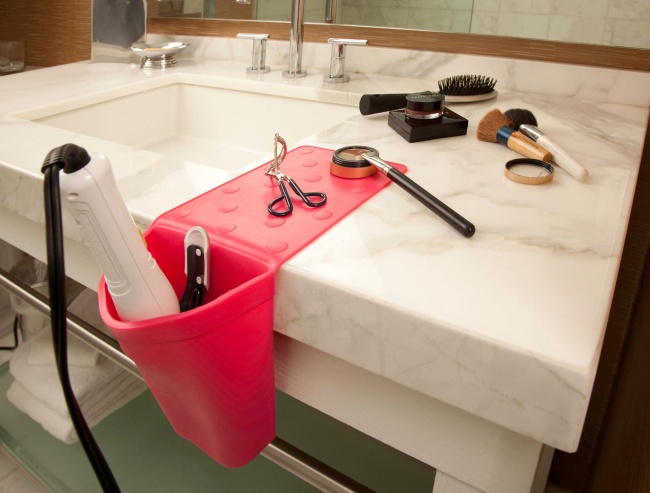 Cluttered vanity sink? Make your makeover extra comfortable and convenient by having space-saving tools, such as this pocket for your hairdryer and hair straightener.
Want to organize your bathroom essentials? Why not utilize your shower curtain with pockets? You'll be surprised how easy it is to make.