First off, let's defined beadboard; beadboard is wooden plank made up of narrow wood lined up vertically. Between each plank is a ride or a small indentation referred as 'bead'. Most beadboards today come in long monolithic sheets, imitating the look of real narrow planks, and making them easy to install. Beadboards are beautiful and practical choice for homes, especially for kitchen walls, ceilings or even backsplashes, as they're extremely easy to clean.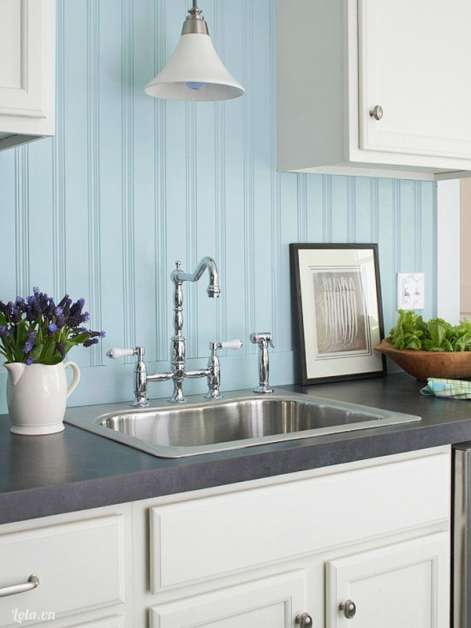 Light blue beadboard backsplashes are perfect for seaside kitchens. The shiny stainless steel faucet and sink are complemented nicely with a dark-colored countertop. And there are the white kitchen cabinets to wrap everything up.
For a cottage look, use traditional ivory color for your kitchen. The black countertop also perfectly divides everything, giving different elements distinction. Also, check out the pin lights that provides dim lighting for cozy feel to entire kitchen.
For floral print blinds, it is best to use light green beadboard backsplashes, as both complements and echoes each other. The green backsplash perfectly divides the white hanging cabinet and the black countertop with white cabinets underneath.
Gray and brown work perfectly together, just check out this brown/wood finished beadboard backsplash. Notice the unique white sink and how it contrasts perfectly to the grey cabinets.
You can never go wrong with white, as a matter of fact, you can go all white for your kitchen cabinet and beadboard backsplash. It blends in nicely with the hanging cabinets, white sink and kitchen cabinets underneath. Of course, there's the black countertop to provide a distinction of the different fixtures.
One good thing about beadboard backsplash is, you can use it for the entire wall of your kitchen by simply continuing it throughout. Notice how clean and fresh it looks from dark colored (black) floor and wall. Also, the hanging black shelves highlight the white saucers and mugs nicely.
For white kitchen, you can put a little contrast by using a light grey beadboard backsplash. This works perfectly with light grey kitchen cabinets. Take note of the white sink and countertop for soft contrast – makes everything look fresh and clean.
Mint almost always looks perfect with white, they complement each other for chic and elegant effect. It looks refreshing and stimulating. Take note of the black cabinet handles' and hand grab' contrast.
If you dread cleaning sticky grease and splashes, don't use deep beads. This one uses white backsplashes with shallow beads for easy cleaning. Again, there's the wooden finish countertop on top of grey cabinet – contrasting elements that works perfectly.
For a soothing look in your kitchen, choose a boardbead backsplash with wider boards. Pair it with mint kitchen cabinets and hanging cabinets and you get a stimulating and refreshing kitchen. Again, add something to contrast different elements, such as a wooden finish countertop.
Don't be afraid to use bold colors. Take a look at this navy beadboard backsplash and how it adds a modern look to the kitchen. The dark blue of course, contrasts perfectly with white kitchen cabinets, and then there's the dark marble countertop to separate different elements nicely.
If you really love the soothing and calming effect of the color mint, then there's nothing wrong with going all out. This one shows you how nice it would be to go all out with mint. Of course, there are so varying elements, such as the stainless steel finish of the oven and the dishwasher. Plus, the brick wall for different texture.
Narrow white boards can help tie up everything for bigger kitchens, and white always work well with light colors, such as this light blue cabinets. The white sink complements with the white beadboard perfectly, while the marble countertop adds distinction to the different elements in the kitchen.
For a more rustic look in your kitchen, combine different colors of different materials and textures, such as this red brick, light blue beadboard backsplash and white cabinets. Again, there's the black countertop to contrast with everything.
Again, white almost always works with lighter colors, another example is this white cabinets and shelves on light blue beadboard backsplash. Simple accessories such as white kitchenware, mint green cups and mugs, etc. adds beautiful contrast to the shelves and the wall.
You can also use sage green beadboard backsplash with white cabinets for a refreshing look. This looks simple, but elegant, and inviting. Not to mention the window pane allows natural light into the kitchen.
If you want your kitchen to look warm and full of energy, choose warm colors of warm wood beadboard for a rustic feel. Notice how the brown baskets look perfectly inside the white storage spaces. Also, the pin lights underneath the kitchen cabinet provide dim lighting for warm kitchen atmosphere.
A stale blue beadboard backsplash perfectly contrasts white cabinets, making each other pop up their colors in your kitchecn. The grey hanging cabinets look great with white hanging cabinets as well, while the white range hood complements with the stale blue beadboard nicely.