Ever feel like your bathroom looks dull and boring? Well, there are tons of things you can do to remodel and put some life into it. However, many times, all you need is to choose the right lighting. Here are some great bathroom lighting ideas to inspire you.
More than the standard lighting, choosing the right color generates the cozy and comfy feel you want for a bathroom atmosphere. A mirror on the wall with proper lighting can make the whole bathroom feel bigger than it actually is. This white sink with modern vanity under wide mirror is as elegant as they come.
For bathroom with brown granite countertops, you are free to add bright lights. Both will complement each other perfectly – a classic look for any household.
You can also choose modern design lights for a modern feel. This bright LED light comes with a glossy frame for that modern and elegant look. Works perfectly for minimalist bathrooms.
Another great variation of the previous one, small, simple yet elegant and eye-catching. Notice how the bright LED light complements with glossy frame and black wall perfectly.
You don't need sophisticated lighting fixtures for a beautiful bathroom like this. This traditional bathroom improved its look with the simple upgrade of a pair of classic maple vanity and white sink.
For bathroom with beautiful furniture and fixtures, you can opt for simplified, yet creative lighting designs. The antique oak cabinet and shelves inside this comfy bathroom is accentuated nicely with a trio of small light fixtures.
You can definitely use chandelier for a bathroom as beautiful and as spacious as this. The enchanting chandelier in this bathroom shows you how a simple light fixture can make a huge difference in a bathroom. Add some pin lights and voila!
For wide and modern bathrooms, be creative in choosing light fixtures. This ball light complements the hard edges of the floating vanity and shelves. This bathroom's open design maximizes every inch of space, from floating vanity to tub, to shelves. The dark ceiling accentuates the pin lights perfectly.
Put ceiling pin lights close to the wall for a majestic effect. It creates a wave of light, a unique kind of effect that doesn't only look surreal, it also lights up the bathroom even better. Take note of the beautiful contrast of the wooden accents and fixtures.
For bathrooms with brick walls, maximize the rustic feel with this kind of fancy bathroom light. Bricks always look nice for bathrooms, and in this one, the floating oak vanity cabinet topped with glass countertop just looks perfect.
Modern minimalist bathrooms like this need no fancy lights. This alluring bathroom brings bright white lights and black and white theme altogether. The glass shower is the definitely the one that ties everything up.
Vintage lights are timeless pieces, and work perfectly for bathrooms with warmer paint colors. The artistic wall mirror and oak vanity looks great with warm yellow light.
Opt for yellow light for a cozy and warm feel, such as in this photo. Sheer curtains allow some light to get in, bringing some warm feel to the bathroom. White and yellow also complements each other perfectly.
Simple bathrooms need simple lighting, this one looks clean, practical, yet truly timeless. Clean sink, crystal clear mirror and spotless clean wall all make up a fantastic bathroom. Again, there's the fantastic lighting.
For modern bathroom designs, choose softer lights. This is perfect especially for bathrooms looking for that comfy and spa-like feel. Add some colors, such as green towels for color contrast.
Don't be afraid to use tons of lights, of course, choose subtle and softer lights should you choose multiple lighting fixtures. Also, notice how this bathroom maximizes natural sunlight with a glass window. It adds warmth to the bathroom.
Simple, yet elegant and creative – this one lights up not just the vanity, but the whole bathroom for a warm and inviting feel. This setup is ideal for small bathrooms; notice how the vanity is maximized with storage cabinets. The light fixtures are also simple, yet effectively and purposely elegant.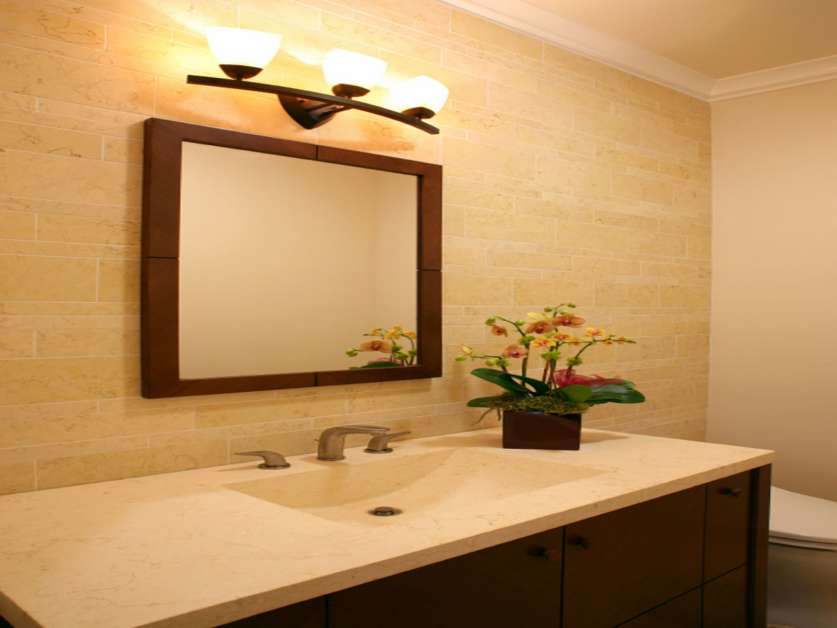 Another great example of a simple, yet elegant lighting fixture – this trio of lights complements perfectly with the vanity sink. If you have a spacious bathroom with a spacious vanity, then you don't need elaborate lighting fixture. Small and simple lighting fixtures can help your bathroom look even bigger.