You may be thinking of different ways on how to decorate your home interiors. Bring life to your living room with this wonderful table arrangement. We have compiled the best examples that you can browse through.
White is always classy. This white tulip flowers looks wonderful in this living room setting. The candles are also a great addition to this living room set up.
This is a cottage inspired flower decoration. Small flowers can be attractive for a table decoration if you know how to arrange them. This looks wonderful.
This is a rustic design for a flower arrangement. This will look lovely in your living room. A lush green theme for a flower arrangement do not look so good after all.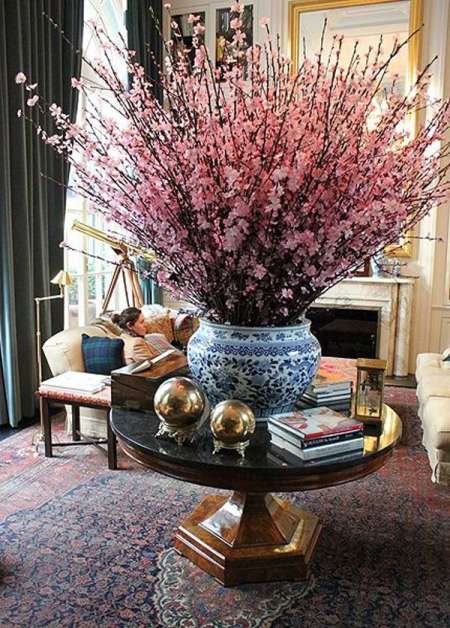 This is a grand flower arrangement. The big pink flowers is a head-turner decoration for this living room. Your guests will surely love this.
This is a minimalist flower arrangement. It makes your living room look simple and spacious. You can take this picture as an example.
This set up looks so classy. Remember to choose the right type of flower and color for your arrangement. Try this idea.
This picture uses a white flower with pinecones. You can place this kind of decoration in your workplace. It looks so refreshing.
This is a country inspired arrangement of flowers. Match your flower arrangement with your home interior. Brown and violet combination looks wonderful.
This type of flower arrangement looks perfect for an industrial theme. White flowers blends well with the brown furnishings. It gives your home a bright and homey ambiance.
This is another grand and luxurious set up for your living room. You can make your room beautiful without having to spend so much. You just have to use your imagination.
This is a unique flower arrangement. This is a white and brown color combination. The absence of the green leaves makes this arrangement a little rustic.
This living room looks so bright and neat. The flower arrangement looks so lovely. It is a perfect choice for this set-up.
Pink flowers can be a great choice for a plain gray living room theme. It gives a beautiful contrast to the room. You can even use a clear vase for this.
You might have an old bucket at home. This can be a great vase for your flower arrangement. It is a smart idea to try.
This is a perfect style for your girl's bedroom. You can use a violet flower for a violet themed upholstery. This theme gives you comfort and relaxation.
Small flower arrangement can be a good centerpiece decoration for your dining room. A white is always a safe choice. This is a simple and pretty example.
This is a dramatic arrangement for this kind of room. It has a Japanese incorporation to this room. You can do this for your room if you like.