Choosing the right interior for your home is essential. This creates the mood and personality of your room. You might be considering decorating your bathroom pink. This article will give you tips and ideas.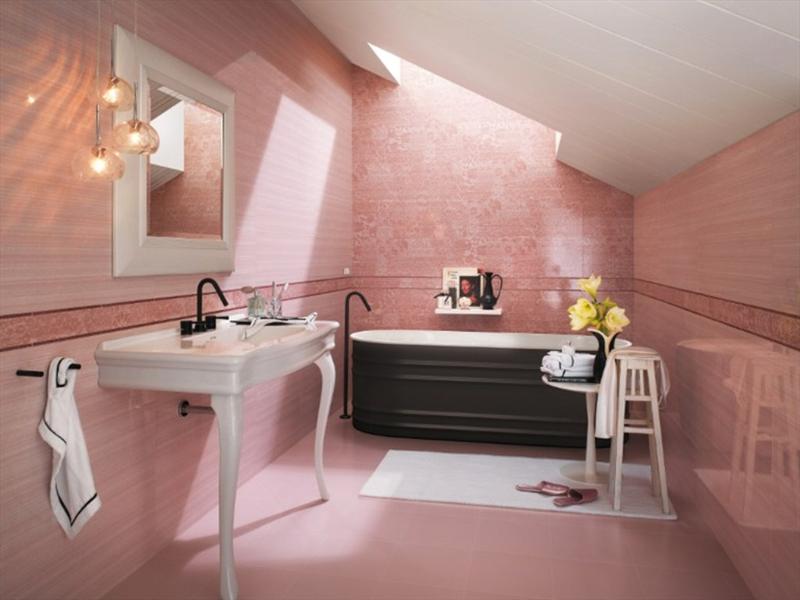 This bathroom looks lovely. It looks modern, light and beautiful. The light pink bathroom tiles give a stylish look to the room.
This is a great idea if you are a fan of pastels. The nice pink bathroom tiles in a brick form gives a special look to the bathroom. You might like this idea.
This is bold bathroom design. You can have your bathroom with this kind of pink shade. It creates a dim and sumptuous bathroom ambiance.
This is a charming bathroom color. You do not have to color everything in pink. You can use pink as an accent in this case.
This bathroom looks chic. The line between the pink and white tiles is so neat. The flooring also has a good contrast with its bathroom walls.
This one is a classic bathroom design. You can use pale pink if you don't want it to be too pink. This is soft and refreshing to the eyes.
This is a nice mosaic idea for your bathroom. The combination of hot pink and white is not so bad. This idea creates an amazing visual effect.
This is a stylish bathroom design. You can add other colors for your pink motif. A pink, black and white combination looks fun.
The hot pink color of this bathroom makes the room vibrant. You can add prints and patterns to go with your interior. This looks amazing.
This is an eclectic designed bathroom. It has a perfect balance of prints, patterns and fun colors. Your guests will love this bathroom look.
This bathroom looks very elegant. This bathroom has a feminine appearance that girls would love. The white and silver combination adds a wonderful accent to this bathroom.
This bathroom has a mid-century setting that looks wonderful. It has a hot pink and beige color combination. This is perfect for a retro modern bathroom.
This is a wonderful French inspired bathroom. This bathroom is a perfect example of class and charm. The pastel pink color of this bathroom adds a sweet and soft appeal.
This bathroom looks really grand. You can simply apply a gorgeous printed wallpaper just like this. It gives the room a country charm.
This is a modern and simple bathroom idea. It has a normal and casual layout that you might like. This is a totally cheery and vibrant bathroom design.
This is another idea for a mosaic bathroom design. It has a hot fuchsia that it attractive to the eyes. You might want to try this idea.
Pastel never gets dull. This is a wonderful pastel colored bathroom. It looks neat and clean for a bathroom.