It is refreshing to hang-out with your friends and family outdoors. You get to enjoy the view of your garden and the fresh air breeze. To help you enjoy more these pleasure, you can add some perfect outdoor furniture for this.
Make use of those old wooden pallets in your backyard. You can recycle them and make a bench and tables out of it. You can paint it with vibrant colors.
This is a new look you can give to your aluminum chairs. Instead of junking it your garage, you can give it this fun look. This will be a great addition to your outdoor furniture.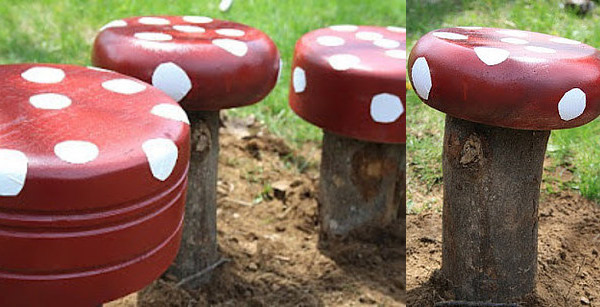 This is a creative idea you can do. Try to add a furniture that has a look that will match your garden. This is a cute mushroom table.
This is a beautiful furniture you can do for your garden. Upgrade the function of this potting bench by making it as a serving station as well. Paint your potting bench with bright colors.
This is a wonderful idea for a cocktail table outdoor. You will just need a wired fence and stones for this. Make this as your cylinder base for your table.
This is a flower pot table. This will be a great addition to your outdoor furniture. The best thing is it does not cost you much compared to other furniture prices.
This is an amusing design for your outdoor table. You can have a built-in cooler at the center of your table. This would be perfect when your hang-out with your friends and drink at home.
Wooden dining tables for your outdoor are really a great choice. Just like this picture, it looks perfect for gatherings. You might want to have this furniture.
This is a practical solution for your outdoor barbecue place. You can use a milk crate stool. No need to buy expensive stools for outdoors.
Always think of recycling those old things laying outside your house. This is a creative gallon barrel chair. Your guests will surely love this design.
This is ideal if you like to spend time outside doing barbecues. You can convert a table into this. Your friends and family will be amazed seeing this.
Do not be afraid to be creative. This is a mosaic tile table. This table is easy to do by yourself.
You can use anything for your outdoor furniture. Even old tires such as this, you just have to make sure its clean. You can repaint it in any color you like.
If you have some old and broken bathtub at home, this is a clever idea. You can repurpose it into an outdoor sofa. This is a smart way of recycling your things.
It would be great to have a swing pallet for your home. Just like this picture, you will surely love to relax outdoor if you have this swing. Try this furniture for your home.
You can have an outdoor buffet cabinet such as this outdoor. This idea will surely astonish your guests. This is also a great way to organize your plates outside.
This is another way of redecorating your old tires. You can repaint the tires. Also, wrap a rope around it just like this.