For people who are obsessed with hearts, you will definitely love this entry. You will feel inspired and happy to see these different ideas that you can do. There are many different ways you can make your home in a heart themed. Check out pictures below to see some ideas.
This is a simple metallic gold heart design. You can add glitters to the heart to make it stand-out more. This is also pretty easy to make.
You might have a lot of acorns around your home. This is a great idea to use those acorns. Try this creative wall art for your home.
This string heart is very lovely. You will be amused how you can create as lovely as this. You can try words and shapes in this theme.
This design is inspired by PB Kids wall decorations. It is a much cheaper version that that though. You can try this project by yourself.
You can make use of some old frame for this idea. If you prefer some natural elements, this is a nice project you can do. This will be a nice decoration for your table.
This design is eco-friendly. Who would have though you can make something pretty with coffee lids such as this. You can use a nice base to attach the coffee lids such as this.
This is a stick heart design. It gives your home that rustic feel that you would like. You can just gather some sticks around your house.
This is an interesting idea you can try for your home.  This is a gold glittered heart wall art. What is great about this is that it is also very easy to make!
This is a stenciled heart frames idea. You would need a cameo to cut the stencil for this idea. You can paint this with interesting colors to make it more lovely.
This is a DIY heart wall project. It looks elegant on your living room table. A white frame would look perfect for this idea.
This is a button heart canvas wall art project. In case you have a lot of extra buttons, this is a great idea you can try. You would love how lovely this design would turn out.
It is nice to add some patterns for your home decorations. You can incorporate this in your heart designs. This is a perfect example.
You might have some old pallets at home. This can be a great tool for your home decoration. This looks rustic for your home.
How nice would it be to see something cute even at dark? Use some red lights for this simple heart decoration. It will not take you an hour to make this.
This is a paint chip heart art. You may have paint chips at home that you no longer use. You can make it to an artistic wall art such as this.
This is an easy wall art idea. You can combine the beautify of heart and rose in one decoration. This will be a worth-it decoration for your home.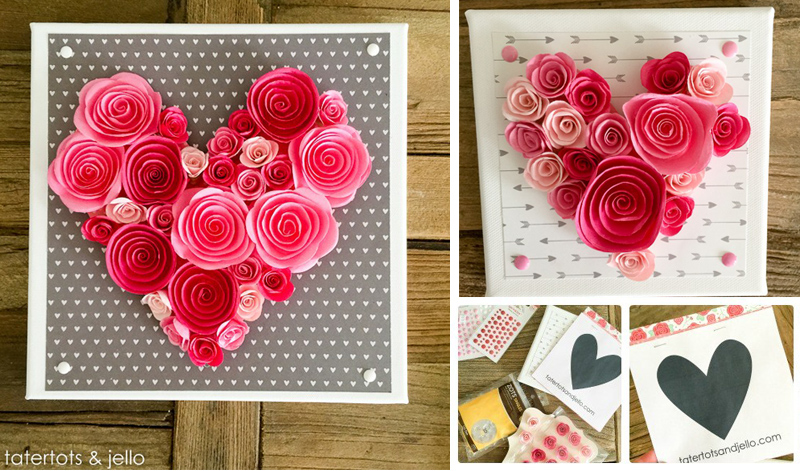 You might have some corks at home. You can use them to complete this wall art idea. Attach them together and have it decorated in different shades of color, just like this.