Do not let old furniture go to waste. There are creative ways on how you can repurpose those old furniture. We have gathered some beautiful furniture transformation ideas you can do.
This is a charming looking bench for your home. You can make this as your seat for your dining table. Reuse the headboards from your old beds to create this comfortable bench.
This is a cute little side table. You can create this side table using an old tray. Attach the tray into a leg of a stool.
You might have an old entertainment center at home. You can turn it into a laundry storage. Just paint it with a whole new bright color just like this.
This is an old nightstand. It is amusing how it can be turned in to a tabletop vessel sink. It is not that even hard to do.
This is a lovely coat rack. This is repurposed from an old bookcase. You just have to add a little creativity to create this lovely rack.
Are you thinking of a linen storage for your home? You can use a fruit crate for this. Just varnish it to make it look new.
This is a garden armoire. You can use your old and unused dresser for this. You just have to remove the unnecessary drawers, replace the knobs and color it with something bright.
This is another way of recycling your old bookcases. You can convert it into a functional storage in your dining room. This is a practical solution you could do.
Aside from storage, you can also turn a bookcase into a chic bench. You just have to repaint it and add a cushion on top. This is a stylish one.
Are you bored with your old bed frame? You can remake it into a pretty chair for your bedroom. Just cut the bed frame into vertical half just like this picture.
Pet lovers would love this idea. Make a cute little bed for your pet. This is an unused side table turned into a pet bed.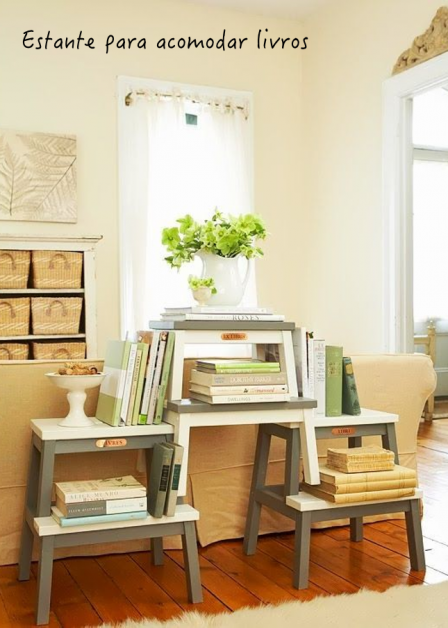 You might have unused stools at home. Try stacking them to create a bookshelf just like this. This is one creative and unique idea.
You can make your boring breakfast table into a gorgeous night stand. You just need a little creativity for this. You will be surprised how it will come out.
This is a nice craft station for your kids. It is just a rolling kitchen cart turned into a craft table. Your kids will love this.
Mirrors are expensive especially if they are antique. You can have this antique look with an old mirrored closet door. Try adding some patterns and paint to make it look stylish.
Who would think that this is originally a metal sawhorse? Do not be afraid to think out of the box. It will be rewarding to know you created something beautiful.
This is a nice unused side table. You can turn it into a beverage holder. This will be a good addition for your home.