Treehouses have always been a great playroom for your kids. However, who says treehouses are just for kids? This article will show you that treehouses can also be for grownups and that they can be nicer than your house.
This is a cozy and calm tree house look. This looks like those old tree houses you see on TV. You can build your tree house with this concept.
This is a uniquely built tree house. It has a wonderful roof design that you cannot imagine in other treehouses. This is a duchess built tree house.
This is a modern tree house design. It looks grand and luxurious. You may want to take inspiration from this design.
You can make your tree house long and layered. It even has a great color on its exterior. Your family would love this.
This tree house looks strange but beautiful. Its design is obviously contemporary. If you prefer something modern, this would be a fine choice.
You might like this idea for your tree house. Use an extreme nesting effect. Although the look of this tree house is a bit spooky.
This looks like ET's spaceship. This is a tree house design as well. You might be obsessed with aliens, this is the right choice for you.
This treehouse can actually be found in Canada. Kids might be terrified with this design. This would be a great grown ups hide out spot.
This is truly amazing. This tree house has an amazing design. It has intricate design that makes this tree house unique!
This is a fairy tale tree house. You might love this tree house concept. Its exteriors are matched with its location.
Wouldn't you want to feel like a royalty for once in your life? This is a castle aloft idea. Staying in this tree house makes your feel like royalty.
Are you fond of birds? This is a 78 birds in one human tree house design. You can happily co exist with some birds in this tree house.
This tree house has a superb structure. It definitely catches people's attention. You can have this idea for your treehouse.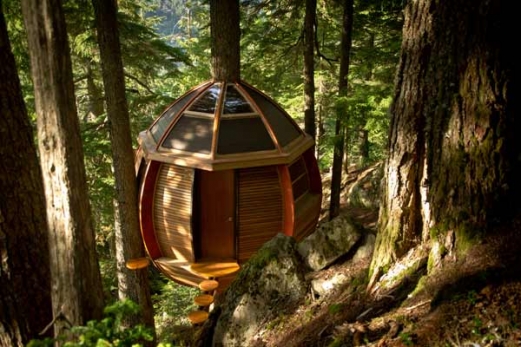 This looks like an intimate tree house. It looks small to have but you would not know unless you are inside. This tree house can be found in Canada.
This is a deck to garden pinecone tree house. Its exterior colors are perfect for its setting. You can always change the color of your tree house depending on your preference.
This is a bunkhouse designed tree house. This kind of tree house can be found in Olympus, Turkey. You can draw inspiration from this tree house.
This tree house looks a bit scary. It is an elevated tea house. You can find this tree house in Nagano Prefecture, Japan.