There are countless of ways to beautify your backyard and garden. You can start by putting plants and flowers, add beautiful and well-crafted pots, arrange stones and rocks, etc. If you're into miniature art, or you simply want to add unique attractions in your outdoor space, then you would definitely love miniature stone houses. Here are some amazing ideas to utilize these tiny pieces of art.
This miniature stone house depicts a Fairy home garden. It's undoubtedly a well-made piece that blends in nicely to its surroundings, giving that enchanting impression that you can't resist. The maker of this miniature garden truly knows how, what and where to use the right plant.
Miniature stone works may look realistic at first glance, and many people actually think it's an easy thing to do, as all you have to do is mimic the look of the real ones. However, they're actually far more complicated than that. This one for example, perfectly shows the intricacy through simplicity. Notice the beautiful flowers that surround the miniature home.
This small fairy tower can fit perfectly in almost anywhere you would like to place it in your garden. It's actually a great addition for small gardens, or backyards with not a lot of room. It comes with an Oak door complete with tiny brass door knob and hinges, giving you that realistic miniature look.
Miniature stone houses, obviously, are made up of rocks and various miniature elements. The best thing about these decorative pieces is, they can totally transform your garden and make a great point of interest. This one for example, may look simple, but the intricacy in the details and of course, various miniature objects completes its beautiful look.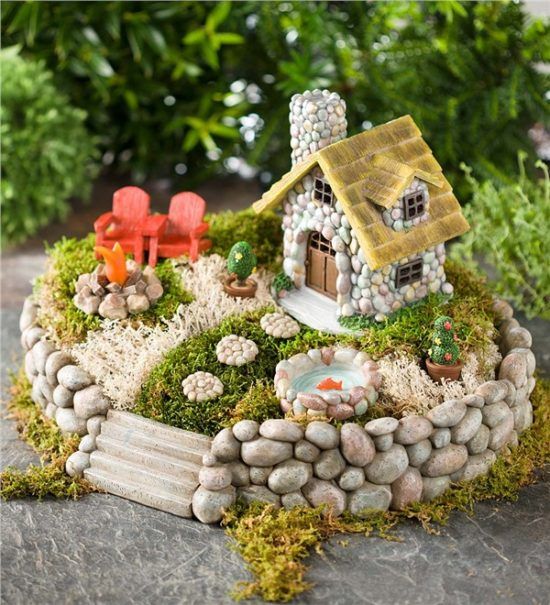 You don't need a lot in making miniature stone houses, as a matter of fact, you don't even need the most sophisticated tools and expensive building materials. Check out this miniature house with outdoor garden, it's mostly made of up pebbles glued together.
This beach pebble fairy house is another good example of resourcefulness. The roof is made up of an armature of plastic lids, taped and glued together, accented with small pieces of wood on the sides for shingles and twigs to provide extra support.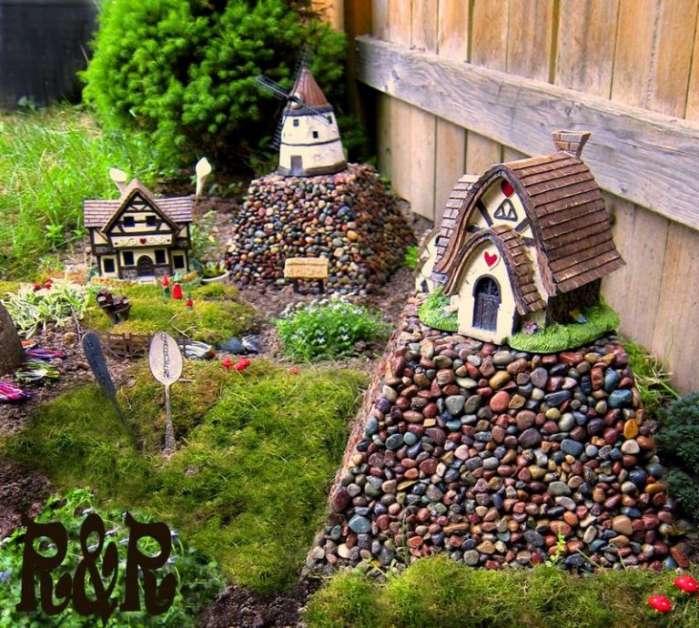 A mother and daughter transformed their garden into a miniature world, with miniature village complete with all the different fairy village accessories you would want to see. From cottages to fairy windmills, it's a fairly intricate collection.
More and more people use and incorporate miniature stone houses, both inside and outside their homes. The good thing about these things is that, they're actually fairly easy to make, and there are lots of DIY miniature stone houses instructional out there. This one for example, is made a DIYer mom.
Another magical miniature fairy house made up of pebbles and various recycled materials such as empty plastic drink bottles, twigs, leaves, pine cones, acorns, etc. They're glued together using hot glue, double-sided tape.
Legend has it that if you build a miniature fairy house and leave it in outside, you might actually attract a fairy into your property. Well, you don't need to believe in fairies to make a beautiful fairy house for your garden, such as these two lovely stone fairy cottages made with nice straight design that is easy to replicate.
Give your garden a magical touch by building multiple stone fairy houses, such as in this image. The beauty about these ornaments is you can easily reposition them anywhere you like, such as in your yard, balcony, patio, etc.
This image shows another fascinating design of miniature stone house. It kind of looked like those Hobbit houses we see in Lord of the Rings movies. This one is set on the ground, which is a perfect way to beautify an empty space in your garden.
This lovely Shingletown Pitched Roof fairy house can definitely make a whimsical statement in your garden. The structure is made up of pebbles glued together using special concrete formula which hardens more and more as it cures. This beautiful thing can be used indoors or outdoors.
This delightful miniature stone cottage is the perfect piece to add to your garden, flowerbed or rockery. If you're not into DIYs, you can actually order these things online. Many miniature stone houses makers/sellers online can actually build a miniature house according to your specifications to make sure you get an absolutely unique piece.
If you're in for a more complex miniature village, then you can definitely take inspiration from this image. Notice the beauty of the miniature stone work, the intricacies of the details of the miniature stone houses, and the deep view that transformed the that small space.